Q106 & WILSON TIRE PRESENT
THE BATTLE OF THE BANDS
BRACKET CHALLENGE
WE'VE RANKED THE TOP 32 BEST ROCK N ROLLERS OF ALL TIME
AND YOU GET TO DECIDE WHO REIGNS SUPREME!
MAKE YOUR PICKS BELOW (ROUND 3 VOTING OPEN 3/30 – 4/2)!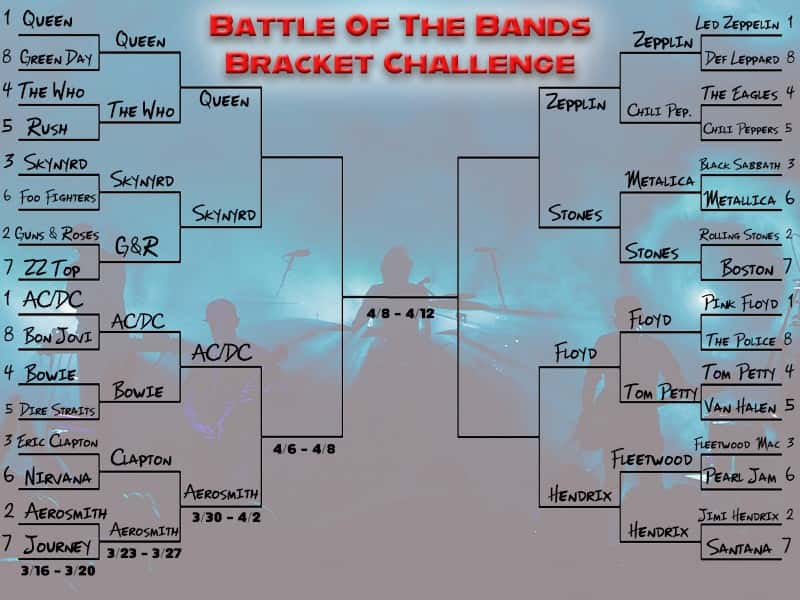 WE'LL WHITTLE IT DOWN EACH WEEK…
MAKE SURE YOU MAKE YOUR PICKS EACH WEEK
TO BE IN THE RUNNING FOR THE $2,000 GRAND PRIZE
AND A $500 WILSON TIRE GIFT CARD!
*$2,000 WINNER AND $500 WILSON TIRE GIFT CARD WINNER RANDOMLY SELECTED ON MONDAY, APRIL 13TH
*MUST MAKE PICKS EACH WEEK OF CONTEST TO BE IN THE RUNNING FOR PRIZES
BROUGHT TO YOU BY: