AT GREAT EASTERN RADIO WE REALIZE AND UNDERSTAND THE FEARS AND CONCERNS REGARDING COVID-19 ARE REAL. WE WILL CONTINUE TO MONITOR THE SITUATION, BOTH GLOBALLY AND LOCALLY, AND PROVIDE LISTENERS WITH ACCURATE AND CURRENT INFORMATION TO THE BEST OF OUR ABILITY. INTERNALLY WE ARE TAKING THE PROPER PRECAUTIONS AS OUTLINED BY THE CDC, ENSURING OUR BUILDINGS, STUDIOS, AND EQUIPMENT ARE CLEANED REGULARLY, ENCOURAGING STAFF TO WASH THEIR HANDS FREQUENTLY, AND TO STAY HOME IF FEELING SICK. THE HEALTH AND SAFETY OF OUR COMMUNITIES IS OF UTMOST IMPORTANCE, AND WE ASK THAT YOU JOIN US IN FOLLOWING THE CDC PROTOCOLS TO HELP LIMIT SPREAD AND EXPOSURE OF THIS DISEASE.
GET CURRENT STATISTICS AND PROTOCOLS ABOUT CORONAVIRUS (COVID-19)
BY CLICKING THE FOLLOWING LINKS:
STAY INFORMED WITH CURRENT INFORMATION ABOUT CORONAVIRUS (COVID-19)
BY CLICKING THE LINKS TO THESE LOCAL MEDIA NEWS OUTLETS:
The Barre-Montpelier Times Argus
**THE STATE OF VERMONT HAS ISSUED A STAY-AT-HOME ORDER…CLICK HERE TO READ FULL ORDER**
**THE STATE OF NEW HAMPSHIRE HAS ISSUED A STAY-AT-HOME ORDER THROUGH MAY 4TH**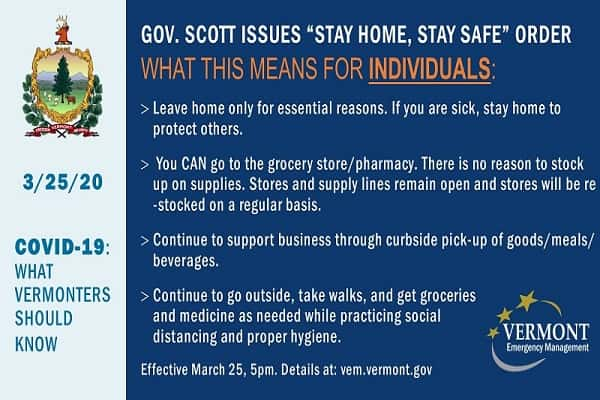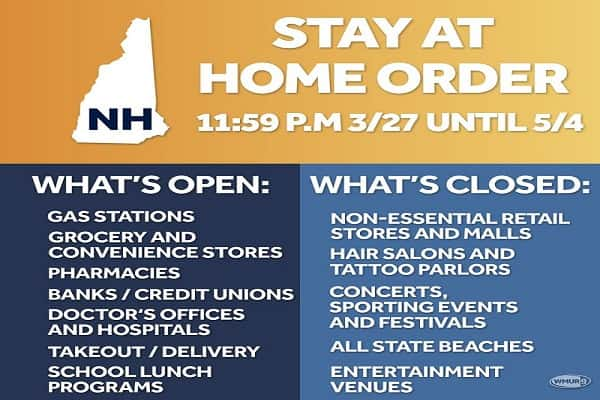 UPPER VALLEY BUSINESS UPDATE (As of 3pm on March 31st)
Cape Air has suspended flights to New York, and is now offering 6 daily flights to Boston. As part of the federal Essential Air Service program, Cape Air will continue to offer this transportation lifeline to the Lebanon and Rutland communities, for essential needs. Get more info online at capeair.com
River Valley Club is closed. Visit www.rivervalleyclub.com for future updates.
Cantores Pizza is open for Take Out, Curbside Pickup, or Delivery. Order online at cantorespizza.com
Wilson Tire is open for tire changeovers, state inspections, shocks, brakes. Online at wilsontireco.com
Wicked Awesome Barbeque in White River has decided to suspend operations for now. Dave McInnis and his family thanks everyone for their support and asks that you stay safe and visit their website for updates at wickedawesomebbq.com
Mascoma Auto is open for business! Car Sales, auto repair. Online at mascomaautonh.com
Bar Harbor Bank & Trust is open for Drive Thru, and Lobby service by appointment only.
Main Street Kitchen is Hanover is temporarily closed but they are almost up and running with their e-commerce website, check back on their Face Book Page.
AB Gile Insurance is open. Their staff is working remotely via phone and email. Their website can assist for further info and appointments can be made for in person meetings. abgile.com
K&W Tire is 100% in White River. And…their new Kwik Tire service can come to your business or home today. Call 855-GET TIRES!
Marsh Brothers Deli is open for Take Out and Curbside Pickup Monday thru Friday from 7am-3pm. See today's specials on Face Book and call 603-727-9329
Aumand's Furniture in North Walpole, NH is open for business. They are taking extra care with daily cleaning to keep everyone safe. They are open Monday-Saturday 8:30-5p and Sundays Noon-4p, with deliveries available.
MJ Harrington & Co Fine Jewelers-Main St Newport.  Store is closed, but they are available for special repair or purchase needs. Call 603-863-1662 or email sales@mjharrington.com
Stateline Sports-Store is closing end of day Saturday March 21st, but for the next 2 weeks if shoes or sporting goods are needed, they are available for special needs. Please call 603-298-8090, or sales@statelinesports.com
Lebanon Paint and Decorating open for and currently operating normal business hours.
Be-Fit Physical Therapy is starting telemedicine videoconferencing visits next week.  Call 603-653-0040 or go to Be Fit Physical Therapy dot com for updates.
Vermont VA Federal Credit Union is White River is open with drive-up services only. Get more details on their website.
West Lebanon Feed & Supply is stocked up to keep pets and animals happy and healthy! Now offering curbside pickup by calling -298-8600 or visiting their website, and ask about home delivery options.
Vanessa Stone Real Estate is open and practicing safe distance and sanitizing. Online at Vanessa Stone R.E. dot com. 
Canaan Hardware is open, they're sanitizing, keeping their distance and open regular hours.
My Brigadeiro has closed the old location in preparation for their move across the street to 33 South Main at the former Dartmouth Bookstore location.
LaValley Building Supply – all locations open and offering curbside service and delivery
Newport Chevrolet Buick GMC – offering zero percent financing and deferred payments on many models, open for both sales and service
McGee Toyota – browse inventory online and complete the buying process easily
The Colonial Performing Arts Center in Keene is closed. Keep an eye to their website (www.thecolonial.org), Facebook page, and email updates. Please call the Box Office (603-352-2033) with any questions, but be prepared for some difficulty getting through due to the high volume of calls at this time. For the interim the Box Office hours will be Noon – 6PM daily.
Lebanon Opera House box office sales and service has been suspended, however the phones are still covered from noon-5 pm on weekdays. If have questions call 448-0400 or online at lebanonoperahouse.org
Mickey's Roadside Café is open for take-out and delivery
Hanover Hardware is open regular hours and will carry purchases to your car, or you can come in and shop.
Dutille's Jewelry Design Studio's showroom doors are temporarily closed until May 4. But they're still available for remote shopping, remote design consultations, and curbside deliveries. Online shopping will also be available soon. For more details, call 603-448-4106, follow them on Facebook, or visit Dutilles.com. 
Casella Waste Systems will continue to operate to serve its customers throughout the region. The U.S. Department of Homeland Security has deemed disposal of residential and commercial solid waste as ESSENTIAL SERVICES.  For any questions please call 1-800-CASELLA.
Shop from home at Halladay Flowers and Gifts by going to their website, halladays.com. Pick up handmade soaps,  and soothing lotions. Halladay's also has gift certificates available and they will mail them to you at no charge. For fun and practical gifts  make every day a little better with Halladay's. Shop today at halladays.com.
Toy City in Keene is open and stocked with puzzles, games and more to keep you busy and having fun at home.
Leddy Group is open and has many open light industrial positions. They're open 7:30-4:30 Monday- Friday, but please no walk-ins to stay safe.  Just give Leddy Group a call  603-727-0102.
Green Mountain Hypnosis in Lebanon NH is open and seeing clients online for stress reduction, anxiety relief, and more. Call 802 566 0464 or visit GreenMountainHypnosis.com to schedule a free strategy session by phone.
If you are working from home and need help with Skype, Zoom, or other social media platform set-up, Google Attlas Virtual Assistant. That's Attlas… with two t's Virtual Assistant.
If you have a roofing emergency call HP Roofing at 1-800-NEW ROOF, or if you have a water damage situation call Restore Eaze at 877- 4-NO MOLD.
Pearce Jewelers in West Lebanon is temporarily closed through May 4th
Boloco in Hanover is open for pick up (can order ahead or order online!) and FREE delivery! Their prices dropped to $5 for their burritos! And they have their warrior special below here.
Strafford Saddlery, at 5967 Woodstock Road in Quechee, is open for business, but for phone and web orders only. Staff is available by phone to assist customers Monday through Saturday from 10 am to 5 pm. All orders will ship for free. Please call ahead for curbside delivery. Visit www.straffordsaddlery.com or call 802-765-4485
White River Junction VA Healthcare System needs you for the Coronavirus response efforts! They are hiring a broad range of positions including housekeeping, nutrition and food service, nursing, medical technologists, sterile processing, and medical support assistants. Also hiring physicians, physician assistants, radiology technicians, social workers, and administrative positions.  Visit www.vacareers.va.gov for a complete list of positions.
Frazers Place on Route 5 in Windsor is open for takeout. Call ahead for takeout 674-9859
Ledyard National Bank is providing helpful financial information during the COVID-19 pandemic:
Ledyard National Bank's Douglas B. Phillips, CFA Chief Investment Officer, gives us his latest Investment Thoughts HERE
Another informative article, "Our Thoughts on the Corona Virus and Recent Market Volatility" by Douglas B. Phillips, CFA Chief Investment Officer can be found HERE
Check out Ledyard National Bank's COVID-19 resource page with info on how to protect yourself from cyber-crimes during this crisis, info for small businesses to get through these challenging financial times, etc…click HERE
IF YOU'D LIKE TO REPORT A BUSINESS OR EVENT CLOSING
PERTAINING TO THE CORONAVIRUS PLEASE CLICK HERE
AUDIO:
There has been a massive run on grocery and retail stores since the beginning of the coronavirus pandemic. Click HERE to listen a very informative interview with Erin Sigrist, President of Vermont Retail & Grocers
Great Eastern Radio's Peter "Fish" Case chats with Emilie Katherine Kornheiser, Brattleboro District 1 Vermont State Rep, to discuss what the state of VT is doing to assist with Youth Services during the COVID-19 pandemic. Click HERE to listen to the interview
We video chat with Vermont Congressman Peter Welch to discuss to Federal Government's COVID-19 Stimulus Package. Click HERE to see interview
Alex Ginsberg | Partner at Pillsbury Law Talks about the CARES Act and SBA Loans, how to apply and what to expect…listen HERE
Sam Hooper | Owner of Vermont Glove Company, They've retooled and are making masks to try and help keep up with the threat of Corona Virus…listen HERE
"Working From The House" Interview Series – Great Eastern Radio's Matt "House" Houseman conducts phone interviews with people throughout the Upper Valley and beyond about life during the COVID-19 pandemic from his home studio
 IMPORTANT TELEPHONE NUMBERS:

If you are sick and have questions on how to proceed, call 211
Vt. Department of Health: 802-863-7240
NH Division of Public Health Services: 603-271-4496