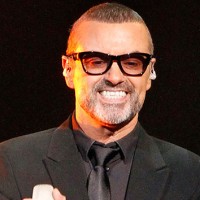 Frank Hoensch/Getty ImagesIf you went to see Keanu, the new movie from Comedy Central duo Key & Peele, this past weekend, you may have wondered why there were so many references to George Michael in the film. Turns out Keegan-Michael Key is a big fan, and George and his manager both approved the use of the '80s music icon's music and his likeness in the flick.
As Billboard reports, in the comedy, which is about two guys who are trying to rescue their kitten from a drug dealer, four of George's biggest hits are heard, including "Faith" and "Freedom '90." His "Faith" video is incorporated into the plot, and one of the characters — a drug lord — even has a George Michael tattoo.
George's manager Michael Lippman tells Billboard he and George were more than happy to sign off on all of that, describing it as "a golden opportunity [that] dropped in our laps." As Lippman explains, the anniversary of George's 1990 album Listen Without Prejudice Vol. 1 is coming in September and they were "trying to find as much exposure as possible."
Lippman says of Keanu, "They turned George into a cool bada**…It's great for [him] and his songs, as people become more curious about his music." He adds, "I'm getting tweets and lots of emails from people loving it. I think it will also work well around the world."
Billboard also notes that George's music was used in Deadpool and in an upcoming Martin Scorsese movie called Bleed for This.
Copyright © 2016, ABC Radio. All rights reserved.