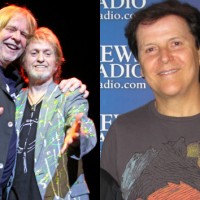 Rob Ayling; ABC News RadioA new musical project is in the works from three former members of Yes — founding singer Jon Anderson, longtime keyboardist Rick Wakeman and guitarist Trevor Rabin. Wakeman recently revealed in an online blog that the idea for the collaboration, which currently is dubbed Anderson, Rabin and Wakeman, was partly inspired by Yes bassist Chris Squire's death this past June.
"Jon, Trevor and I have been talking about this for some time," Wakeman explained, "and following the very sad passing of Chris, felt it was the right time to get together and produce both new music and perform some of the classic material as we feel it should be performed."
Rick, who played with Yes on and off from 1971 to 2004, maintained that no other former members of the band are involved in the project, adding that he, Anderson and Rabin intend it "to be very fresh in every approach." Wakeman also said that they will enlist the talents of "other experienced side musicians."
In addition, Wakeman reports that the trio has been "writing new material and swapping ideas back and forth." He describes the early musical ideas as "quite amazing…[v]ery fresh, full of life, energy and melody."
According to Rick, Anderson, Rabin and Wakeman plan "to play a few festivals in the summer and then to tour fully in 2017."
Meanwhile, Anderson also mentioned his plans with Wakeman and Rabin in a recent message posted on his official Facebook page.
"I will start singing with Trevor and Rick later in the year as ARW," he wrote. "We have been writing some unique songs together, and feel it is time to go out together and perform on stage." The singer also revealed that he and acclaimed jazz-rock violinist Jean-Luc Ponty will be hitting the road again with their group Anderson Ponty Band in the U.S. in May and June.
Copyright © 2016, ABC Radio. All rights reserved.