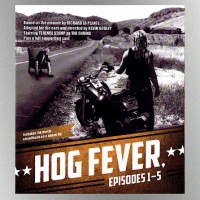 Escargot Books and MusicFounding 10cc member Kevin Godley teamed up with author/musician Richard La Plante on an interesting, newly released audio project called Hog Fever, which he describes as an "ear movie." The release, which is available as a CD and a digital download features an audio performance of a screenplay written by La Plante, along with original soundtrack music and songs composed by Godley.
Hog Fever tells the fictional tale of a struggling American author named Robert Lourdes, who, inspired by his love of the films Easy Rider and The Wild One, hops on a Harley-Davidson and takes off on a road trip in an effort to find himself. The recording features a cast of actors who lend their voice to various characters, among them the Oscar-nominated Terence Stamp.
Godley describes Hog Fever as "a pure audio experience with music plus all the production values of a movie but without any…pictures!" The CD and download are broken into five episodes, and also feature a bonus soundtrack that includes four original tunes by Godley and one by Love and Rockets/ex-Bauhaus guitarist Daniel Ash.
You can check out an audio trailer for Hog Fever on YouTube now.
Copyright © 2015, ABC Radio. All rights reserved.