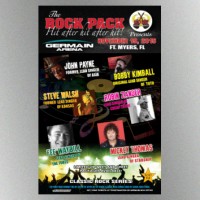 KDIM EntertainmentThe voices behind of some of the biggest classic-rock acts of the 1970s and '80s will join forces for a special concert event called "The Rock Pack" that's scheduled for November 19 at the Germain Arena in Estero, Florida. The show will feature performances by founding Kansas singer/keyboardist Steve Walsh, Cheap Trick's Robin Zander, ex-Toto frontman Bobby Kimball, Starship's Mickey Thomas and The Tubes' Fee Waybill.
The event was organized by former Asia singer John Payne, who also put together the popular Las Vegas classic-rock musical Raiding the Rock Vault. Payne will serve as the host of the "Rock Pack" concert, chatting with the various singers about their eventful careers, while also performing some tunes himself. In addition, the show will feature a multimedia element, with visuals projected on large screens above the stage.
Fans attending the "Rock Pack" concert can expect to witness performances of plenty of memorable songs by the artists who sung them, including "Carry On Wayward Son," "Dust in the Wind," "I Want You to Want Me," "Surrender," Hold the Line," "Africa," "We Built This City" and "She's a Beauty."
Tickets for the show are on sale now via Ticketmaster.
Copyright © 2015, ABC Radio. All rights reserved.